Inside these posts:

Flight attendants

Visit our Filed page for categories. To browse by specific topic, see our Inside page. For a list of companies covered on this site, visit our Companies page.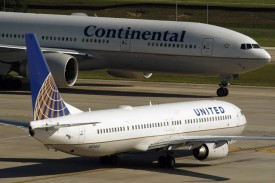 Flight attendants with Continental Airlines Inc said they will not participate in contract talks with their peers at United Airlines, according to a report in Bloomberg.
United flight attendants had said in an exchange of letters they would have more leverage if they worked together, according to Bloomberg.
Representatives for Continental and for Association of Flight Attendants could not be immediately reached for comment. Get the full story »