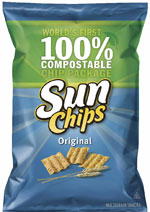 It looks like PepsiCo's  Frito-Lay division is giving its SunChips bags another make over — only to make sure they are less noisy.
Frito-Lay hopes to quiet complaints about the chips bags by switching out the biodegradable bags for older packaging on most flavors, AP reports.
The change comes after consumers had grumbled about the loud crackling sound the biodegradable bags made.
The company is switching back to original packaging, which is made of a type of plastic, for five of the six varieties of the chips, AP says.