Blockbuster
Visit our Filed page for categories. To browse by specific topic, see our Inside page. For a list of companies covered on this site, visit our Companies page.
Oct. 8, 2010 at 9:28 a.m.
Filed under:
Retail
American Apparel Inc said on Friday it has named Tom Casey as acting president. Get the full story »
Blockbuster Inc. announced early Thursday that the company and its U.S. subsidiaries have filed voluntary Chapter 11 petitions with the U.S. Bankruptcy Court for the Southern District of New York, hurt by major shifts in the way consumers view movies and media. Get the full story »
Netflix launched an online video-streaming service in Canada for films and television Wednesday, its first foray outside the United States and a direct threat to established cable companies. Get the full story »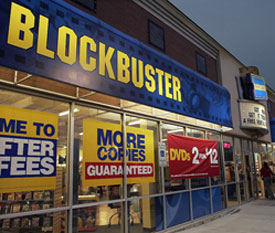 Blockbuster Inc. is in the final stages of preparing a long-awaited bankruptcy filing, marking a milestone in consumers' shift away from brick-and-mortar video stores to films delivered by mail and the Internet.
Blockbuster, struggling amid more than $900 million in debt, could file for Chapter 11 bankruptcy protection in the next few days, said people familiar with the matter. The filing could come as soon as Wednesday, they said, and is likely to come by Friday or sometime next week. Get the full story »
After dominating the home video rental business for more than a decade and struggling to survive in recent years against upstarts Netflix and Redbox, Blockbuster Inc. is preparing to file for bankruptcy next month, according to people who have been briefed on the matter.
Executives from Blockbuster and its senior debt holders last week held meetings with the six major movie studios to discuss their intention to enter a "pre-planned" bankruptcy in mid-September, said several people familiar with the situation who requested anonymity due to the sensitivity of ongoing talks. Get the full story »
Blockbuster Inc. has won its second debt-payment deadline extension in as many months, but the struggling video rental chain reported a wider loss and warned it might have to liquidate, sending its shares plummeting more than 20 percent Friday. Get the full story »
Blockbuster Inc stayed a step ahead of bankruptcy after winning a crucial one-month reprieve on debt payments, but was forced to begin the process of delisting from the New York stock exchange. Get the full story »