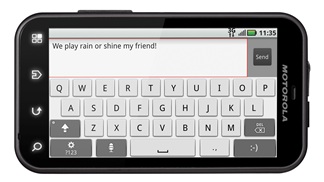 To see more photos of the Motorola Defy, click here.
Motorola Inc. unveiled a new Android mobile phone on Monday's season premiere of "The Oprah Winfrey Show."
The device, called the Motorola Defy, will be available through T-Mobile in time for the holidays, the Schaumburg-based communications equipment company said in a press release without releasing further details on pricing and dates. The phone uses Google's Android operating system, which is the basis for almost all of the smartphones in Motorola's portfolio.
The Defy has a 3.7-inch touch screen and is built to be scratch-resistant, water-resistant and dust-proof, Motorola said.
The Monday season premiere marks the beginning of Winfrey's final season. The talk show host and Chicago institution is scheduled to launch the Oprah Winfrey Network, or OWN, on cable at the beginning of 2011.